Missed a beat last week in getting this newsletter together for you. Can I blame the time change? Mercury retrograde? Being away in the Sufi caravan? I check all of the above. Once again, I vow to be back on track and weekly. You could say I'm going back on the wagon. For it is a kind of temperance, to keep to the regular weekly rhythm, the promise I made to you, dear subscriber and friend.
As I hoist myself back up here, and look back, I find that Yes, I DID fall off the wagon, and yes, I did tell myself excuses for a while, as if it were natural to miss a beat, to step off for a time. Perhaps it is. A sort of change of valence. Well, it certainly is all right. Some of you may be far too busy to open this right when it comes in, and then later it may not seem as fresh or immediate. No matter. My part of the bargain is to get this out to you, come hell or high water. (Actually, our current climate crisis.)
That takes us to OTEC and the work of our dear friend, Shamcher Beorse. In 1948 he brought the Ocean Thermal Energy Conversion system to the US from France. There it had been invented, studied and rigorously tested by French scientists, who built a full test OTEC plant in the Bay of Matanzas, in Cuba. In …. drum roll…. 1930! And it worked, generating energy from the temperature difference between the sun-hot ocean surface and the cold depth. The test plant was in the perfect beautiful location - until the hurricane wiped it out after only a few days of operation.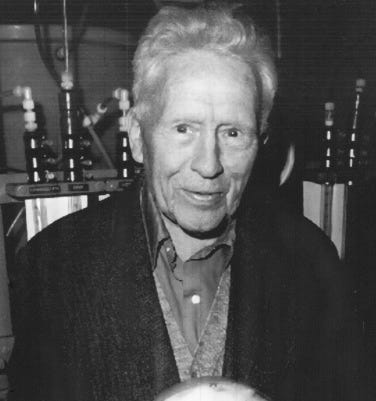 This photo of Shamcher was probably taken at the University of California Richmond Field Station, where he did his OTEC work. There's plenty to unpack about Shamcher, but for today I'll only mention this one focus. He was a solar energy pioneer for three decades. His work reveals what we already know: throughout the past century, oil and coal interests (then later nuclear) directly and knowingly suppressed all other energy alternatives. They were raping our earth to generate wealth in the dirtiest way possible.
Everyone was embedded and enmeshed in all this. We took the environment we were living in for granted, thinking, "That's just the way things are." Kind of like people in London accepting the fog as if it were natural. I was born too late to meet my English mum's father, my very distant grandfather who ran the company store in the mountain mining town of Canmore. My dad's father worked in the Canada Cement plant in Exshaw. (Or was it Loder's Lime? Which company was it that gradually sawed down almost HALF A MOUNTAIN!!!! to do their work?) On weekends our family often drove to the mountains, my brother and I sprawling and rolling around in the back seat without seatbelts, the car filled with our parents' cigarette smoke - shut windows keeping the heat in. We knew we were getting close to Exshaw when the radio turned to static and the spruce trees were all white, coated with cement dust. Laundry out on the clotheslines were covered in the same dust. Then on to "clean" Canmore, the coal mining town that had seceded from Banff National Park in order to carry on with business.
In school we studied "resource maps" showing forestry, mines, oil and agriculture icons - all the wealth of the earth available to us for the taking. And here was a very oil-positive curriculum. Did other kids spend as much time on the ages of the earth, the Devonian? I sure knew a lot about oil and gas. It was important. There was no curriculum on climate or what came to be called "ecology" or "the environment". (Company-funded oil-focused indoctrination continues in Alberta and Saskatchewan schools to this day.)
You and I know all this. But here's the thing: if those oil and coal interests hadn't blocked OTEC and other benign solar alternatives in the past century, we would be living in a very different world today. Ask California's fires, ask the flooded cities, ask the centres for disease control - how can we relieve the damage of this reckless direction? Well, as they say, "Don't go back to sleep." Time to get on with it.
---
Remembrance Day - 11th hour,11th day,11th month
I recall a moving and tender ceremony at Sunnyside Elementary School, when my daughter, Rosie, went there. It was an older school, built in 1910 or so. I sat on those school chairs with the other parents in the gym at the Remembrance Day assembly. The slide show ended with an image of Flanders Fields. Then the poem was read, while the oldest kids, Grade 6, stood facing us like a choir, in front of the slide projection. The boys were all holding lit candles, honouring those long-ago kids, not much older than they were, who had gone to war. Then it happened. For several uncanny and miraculous minutes their places were taken by all the boys from Sunnyside School who'd been sent to war but didn't return. We all felt it. Heartbreaking remembrance.
---
I love writing to dear subscriber friends each week. If you're reading this on the web, why not use the button below and subscribe? It's free.
---