Welcome new subscribers and old friends to another issue of Personal Papers! I wish I could take the time during the week to carefully gather, sort and curate a meaningful synthesis of all the events, inner and outer, but instead I sit in the immediacy of this moment, this morning, and rack my brain for "a message of some sort." (Remember My Life in the Bush of Ghosts, the recording, not the novel that Eno and Byrne nicked the title from?)
I think about the immediacy and intensity of our current lives within the simultaneity of our electric living through social media. This has changed my perception into an insistent flow of events that are measured in beats and bits rather than as fully seasoned experiences. I guess that's what my iPhone means when it categorizes photos as "moments". We just lift moments out of the stream, and as Eliot said, "We had the experience but missed the meaning. And approach to the meaning restores the experience in a different form."
I'm settling on this one event as most significant in this past week. I'm still discovering its meaning.
---
Land Acknowledgment Sign at our Condo Building
James K-M, Bob Baker (Squamish), Beverley O'Neil (Ktunaxa), Carleen Thomas (Tsleil-Waututh), Carol Sill
Today, I look all the way back to last Tuesday, November 26th. If you follow me on Facebook and such, you'll have seen the photos and maybe added to the chorus of "likes". Behind these images of congratulation lies the very dark history of settlers in this land, and much that needs to be done.
But here is what we did. I proposed the idea to our strata council over a year ago, when I was president. It was approved and announced at the AGM. After several starts, James K-M (also a council member) took on defining the language and layout, and arranging for the sign. Beverley O'Neil helped with the event itself, and arranging with the Elders.
I felt some of the significance when the signmaker came to install the sign and James and I saw it for the first time. Somehow it was a strong presence, but not in any way I'd known.
Then on Tuesday the sign was activated by the presence of Elders from two of the First Nations whose land we are settled upon. Bob Baker (Squamish) likened it to welcoming a new canoe. It was a modest event, even though we'd invited lots of people. It ended up that there were 13 of us including the two Elders. A very small ceremony, but that's how it is at the start of things. No other private buildings have done this yet. The Vancouver Courier had picked up the story and sent a photographer the day before. The pic they chose has Beverley and me perched on chairs so we are beside the sign, and although I'm feeling great, somehow I'm looking very double-wide. You can see it and read the full article HERE.
After the Elders sang and each spoke, they turned their backs to us when they uncovered the sign. As they read its inscription, there was a quiet tenderness.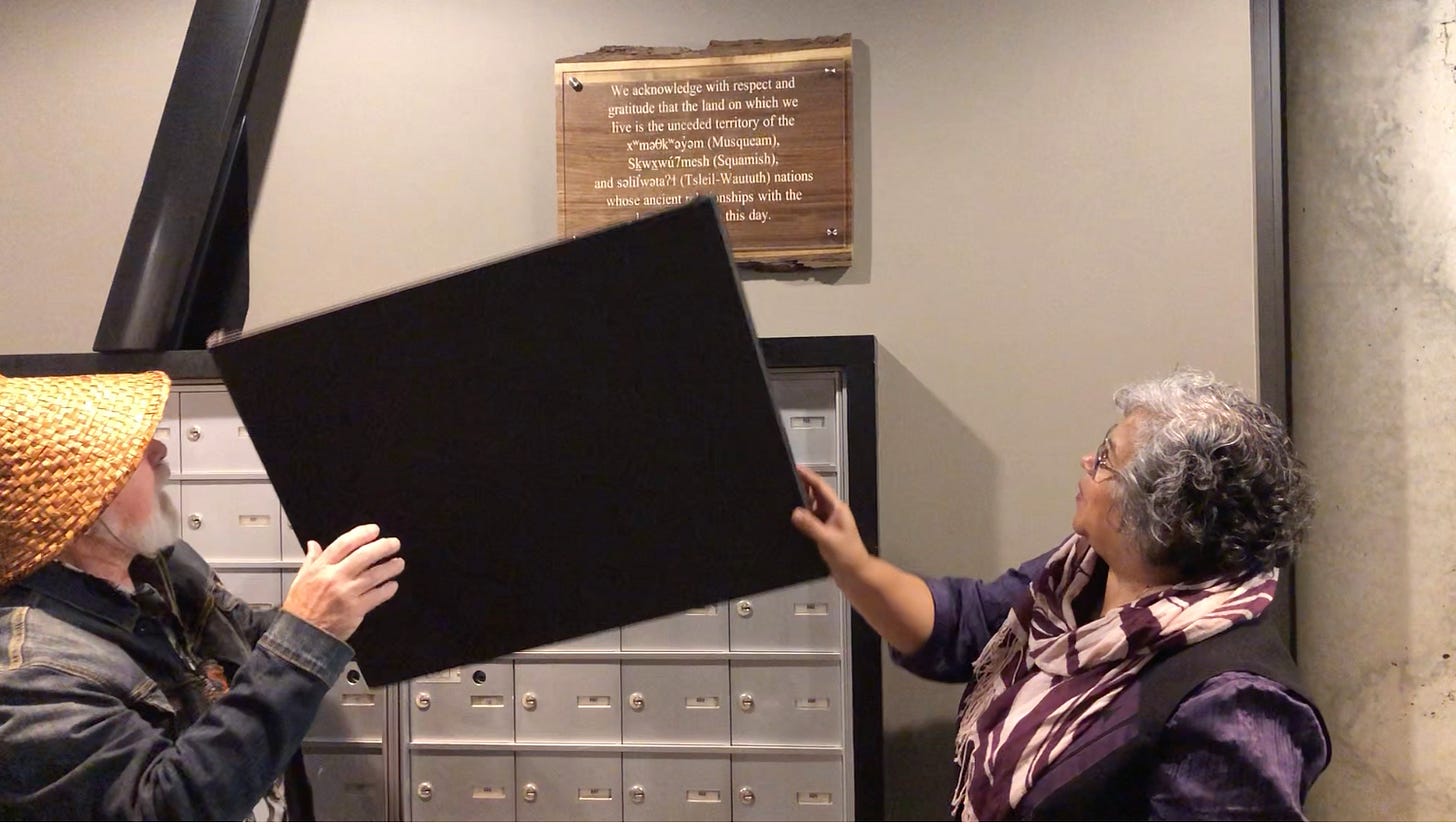 Here's what I picked up from that. I'd thought that the sign was for us settlers to see and understand that this land was not ours to do with as we please. That by reading the words and seeing the language, we'd become more aware of what we are doing here in this place, more sensitive. But that was only the surface, that was only my point of view.
The sign conveyed a pure heart feeling to the Elders for their people when they read it for the first time. I was humbled: the sign was for them, not us, and for their covenant with this land. Something was activated through their hearts. Despite all the development of the railway, the City of Vancouver, the 8-story condo building - something of the land responded. Not through the sign which is just an inert thing, but from the hearts of the Elders who acknowledged it as good. That was the moment, not photographic.
This Land Acknowledgment sign seems like a reverse cornerstone: instead of dedicating the establishment of a building, this sign dedicated a building to the place and time before it existed, to an unseen foundation. It acknowledges that it had been built on stolen land in a legacy of cruel domination that pushed out the very people whose role it had been for tens of thousands of years to care for the land.
And it is our cry, "Please forgive us, please help us, let's work together to find our way."
We didn't realize that also on this date BC put into law the United Nations Declaration of Rights of Indigenous Peoples, the first province in Canada to do so.

Also on this day, Vancouver city council joined with the proclamation of this as the year of Indigenous languages.

And more: the new moon in Sagittarius (if you go into that sort of thing).
---
Thanks for reading and subscribing to Personal Papers, my always free and completely non-commercial newsletter. Please forward this to anyone you know who might like to find it in their inbox, too. And if you like this post, click the heart on the page to give it some internet love!
Till next week……
---